Vital Heart Newsletter Subscription...
Heart Health News You Can Use!
Gene Millen, Author - Revised 5/7/15
The latest heart health information and research on how to cure heart disease.The purpose of the Heart Health Newsletter is to keep you up to date on the little known facts about heart health that your doctor didn't tell you.
I'll do my best to keep things simple, easy to understand and seasoned with common sense and a little humor. You'll also receive the strategies you need to incorporate this information into your life.
Our promise to you is that your email address will NEVER be sold or given to anyone. Subscribe now and you will soon be on the road to optimum health and vitality.
To subscribe please enter your email and first name on the form below and click Subscribe. If you ever decide to unsubscribe (heaven forbid) an option is provided in each newsletter.
---
---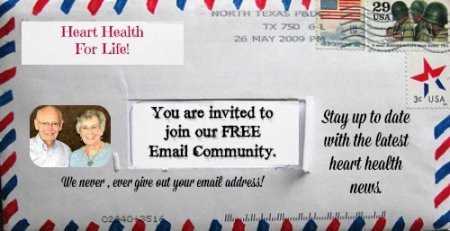 Email Marketing You Can Trust
We never, ever give out your email address to anyone...period. It is safe with us.
---