The Myths of Senior
Exercise And Health
Little Known Truths About Senior Exercise and Health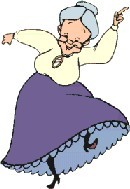 One of the myths of aging is that as we move toward middle age it's inevitable that we begin the slippery slide toward decrepitude.
It doesn't have to be so. Many myths of senior exercise and health including "middle aged spread", shortness of breath, forgetfulness and loss of strength, are brought on, to a large degree, by lack of exercise... not old age.
The good news is that you have a second chance to right the wrongs you've committed against your body. You have the power to turn back the hands on your biological clock and restore your health, energy and vitality.
Although this study looked only at aerobic exercise, he said that for older and frailer people, the ideal senior exercise program would also include strength-building exercises, such as weight lifting or resistance training, since the elderly tend to lose large amounts of muscle and strength.
One of the myths of aging is that it is too late to begin a senior exercise program!
No, it's never too late to regain the vigor, vitality, muscular strength and endurance you thought were gone forever. But you have to get started. If not now then when?
Click here for a senior exercise article that will keep you out of the nursing home.